Want to know how to get married quickly? You're in the right place! I believe small weddings (less than 20 people!) and elopements are a beautifully meaningful, personal way to marry. So, keep reading to learn tips and tricks to help make your quick elopement or small wedding timeline a breeze!
Where to start planning your wedding experience.
To be honest, planning a quick wedding is the same as planning a wedding with a wedding date 2 years out, only faster. 😉
The natural instinct is to dive into a detailed elopement planning timeline to help you filter through what you may or may not need when trying to get married quickly. But before you go clicking away, I really recommend beginning with your priorities.
Before you can call vendors or send invites to your closest crew, you need to make a list of what matters most to you in this quick elopement experience.
Those things/feelings/needs become the big "rocks" in the stream of planning that everything else flows around. So, they are the MOST critical piece to get started with…
If you've spent any time poking around my Instagram, you know I am passionate about saying to hell with tradition and doing things your own way. This means your wedding or elopement priorities should be beautifully unique to you two as a couple.
Once you have your priorities identified, it's time to pick your elopement location.
The location of your elopement will determine everything else. You might have some ideas on where you want to get married quickly, but if not…you can check out this post to help you navigate that decision.
Now, let's say your timeline is REALLY short and you need some fool-proof locations…here are a few easy ideas:
1. Restaurants
Are there any restaurants local to you or in a part of the world that is meaningful to you two?
If you're wanting to get married quickly, renting out a restaurant, brewery, or favorite cafe (or a room in one) can help you check two things off your list at once– food AND location!
2. Accommodations turned venues?
This one might take a little creativity, but there are some incredible houses, cabins, and unique stays to rent that could turn into spectacular wedding locations or an adventure elopement home base for a "Just Us" elopement! Airbnb even has a feature that will help you filter different types of stays you could want!
Pro Tip: Many platforms (like Airbnb) have strict limits on events or parties, though, so search listings carefully, or, try Vbro if you are having a quick wedding with a few guests.
On VBRO, larger homes can be on there with approved "event" use, so read carefully as you search!
3. When in doubt, Google!
Another great tip is to Google "last minute wedding venues" in the area you're wanting to get married in. A ton of search results will come up. Creative elopement or wedding ceremony location options from traditional venues to secluded escapes.
4. State Parks & other local green spaces
One thing you keep in mind when wondering how to get married quickly is that some state parks or local green spaces don't require special use permits, just coordination with the main office. Woot! 🥳️
So look around! Any beautiful parks? Lovely pavilions? A babbling creek? Some proud forests?
Keep in mind that these natural spaces aren't able to be closed or blocked off from other park visitors. Nature is for everyone to enjoy! But with a "Just Us" elopement or an elopement with just a few guests, this could be really a good option for you to explore.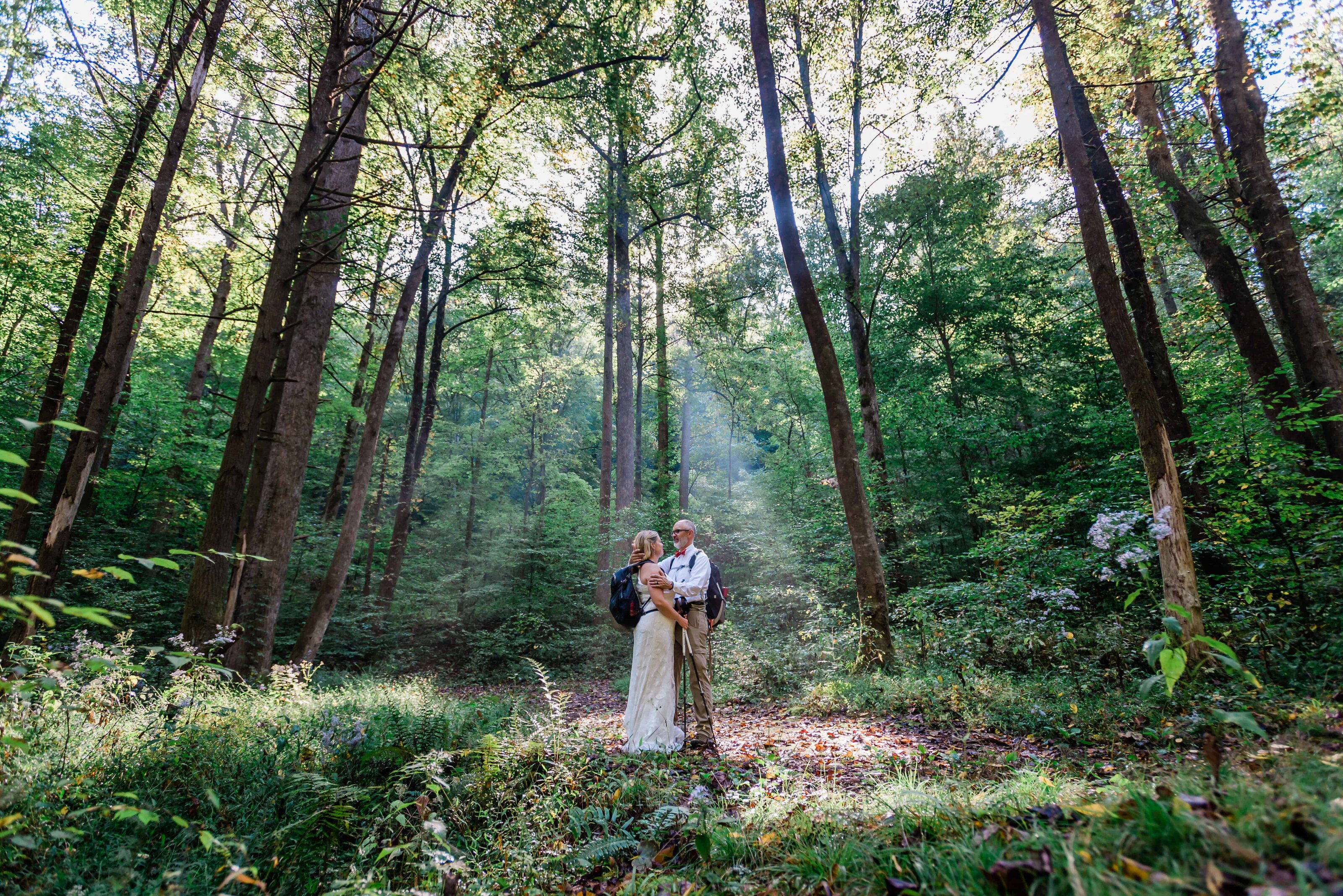 But, in the spirit of Leave No Trace ethics to protect and preserve our treasured outdoor spaces, if you need chairs for guests, want to have a formal ceremony arch, other decors, or plan to throw petals/rice/confetti, etc, you should avoid these public green space options.
If those bits are important to you, your best bet is to go for a traditional venue that is prepared to offer you that private use, and, handle that cleanup. 🙌
5. Inside the quick wedding "box": Courthouse Weddings & Las Vegas, anyone?
While I believe there are so many MORE options than a courthouse wedding or Vegas elopement, one of these might be your perfect quick wedding location!
Nevada is stunning with some incredible hiking & car touring AND can give you that "get married quick" Vegas Strip moment you're looking for. 💒
AND… Your local courthouse IS local, and, can be quick and easy. They are standard elopement options for a reason! 😉
But, just because those options are there, doesn't mean they have to be the right ones for you! You DO have options that can be more fun, more beautiful, and way more meaningful to you. No settling or compromise required, even as you try to figure out how to get married quickly!
Next up, a task list of your needs and picking your vendors!
I recommend making a task list of all the things you want and need to do to make the wedding experience that you need…
It's likely that list is filled with vendors that you think you need.
Vendors include photographers, videographers, food, decor, florals, music, and anything else you need someone else to provide/do for your wedding experience.
Now, take that list of to-do items you've thought of, and smash it up against your list of priorities you set up front to compare the two.
What action items support your priorities? Be honest. And if they don't, cross them off your list. Truly. It will not break your experience to say "no" to some items and you'll be so stoked that you saved yourself from that stress.
With that in mind, here is a list of some vendors that do an incredible job and can get it done fast!🙌
Food
Local fare: Local places can give you a walk down memory lane without having to jump through any hoops to schedule, book, or pay for catering of any kind. Imagine how cute the pictures would be of you two in your wedding get-up at a food truck!🤩
Favorite local restaurants: Drop in on, pick up or opt for delivery of your favorite BBQ joint classics. Same for your beloved little bistro downtown–order ahead for delivery of a number of small plates/tapas, or, tastily prepared family-style plates. There are SO many great options that are fast, easy, and have way less impact on your wallet than a traditional caterer!
Nothing Bundt Cakes: This is a great walk-up-ready "wedding cake" place! They have small, personal-sized bundt cakes, perfectly presented in a clamshell container that is a backpack or picnic basket ready! Have a bigger crew? They do tiered bunt cakes too, and regardless of the size, you'll love alllllllll the yummy flavors!
Think creatively for "wedding cake" options! Maybe a cookie cake or jumbo-sized macaroons from a local artisan shop? A favorite coffee cake or a delicious, trail-ready chocolate croissant or fancy donut. Your celebratory treat(s) can be anything you love!
Rentals & Accommodations
Turo for Car Rentals: This is like Airbnb but for cars! Sign up for the app, pick the car you want to rent, and rent it for your selected dates.

This is a great place to check out specialty vehicle rentals (think a simple passenger car, or, maybe the gorgeous Lexus, a sleek convertible, a top-down backroad-ready Jeep or truck, or an SUV to move the crew). Depending on the area, there is often a good inventory selection (even when big brand rental agencies are sold out or have high rates).

Airbnb & VRBO: Both have great lodging options! I would encourage you to snag your space as soon as you decide where you want to get married because the beautiful, highly rated, well-located stays can get booked up far in advance! I encourage you to check both sites because they have different listings, and where they share listings, can have different rental policies like fees, etc. So, comparing can save you some cash!!

Pro Tip: I've noticed, too, that VRBO tends to have better last-minute options in many markets

Hotel Tonight: This site specializes in booking a range of hip & trendy to tried & true hotels at reduced rates to help the hotels fill their extra capacity!

Despite the name, you CAN plan ahead with this app😉 They offer booking up to 100 days before planned arrival, and up to literally same-day arrival!
Use this link to get the app and get $25 off your first booking!
Florals
Farmgirl Flowers: High-quality flowers with stunning arrangements you can fashion into a beautiful DIY bouquet. Farmgirl is my total go-to anytime I need to send flowers.
Flower Moxie: They cater to DYI couples- giving resources to people to make their own arrangements! Bonus, they allow semi-customization in what you purchase quantity-wise within their mood boards, allowing you to get exactly what you need.
Trader Joe's: Trader Joe's fresh flowers are beautiful and a great value if you're into DIY. Many stores allow a free "pre-order" to request a general type and quantity of in-stock seasonal flowers to be set aside for pick up.

If you aren't preordering, go early in the morning to get what you want!
Pro tip: Some more high-end flowers (like Country Roses) only come in for weekends, so plan ahead! And, make sure to allow purchase early enough to allow some opening to happen for beauties like peonies & lillies.

If you're not a DIY-er, have no fear! Call around to local floral designers to check availability, and be prepared to pay a bit more for a short turnaround project if they can take your booking! AND, be flexible! Seasonal blooms at the designer's discretion can help increase speed, and reduce cost 😉
How I can help in your "get married quickly" planning
I am an adventure lover to my core, so even if your event is last minute, as long as I have availability I would love to photograph your elopement or micro wedding! I even offer a concierge service to help my couples plan the best, most LOW-STRESS elopement experience possible, regardless of how much time they have before the big day!
Officiating: I'm an ordained officiant! This means I can sign off on the paperwork to legally marry folks in all states except Nevada and New York. And, I do so for FREE for the couples I'm photographing (if they want/need) so that I can help reduce one more variable that adds time and complication. ❤️
Dresses
Here is a list of great places for quick dress options! Some offer true "traditional" wedding dress options at various price points… Some provide cross-over type dresses great for bridesmaids, guests, and brides who want something more on-trend than tradition that they might actually wear again. Happy browsing!
Suiting
Here is a list of great places for quick delivery suit options!
Bindle & Keep Note, these are custom suits, so expect the turnaround to take 12-14 weeks, so not a good option for the quickest of timelines! But damn, they are AMAZING and create suits for bodies, not genders.❤️️
Sumissura This is also a custom suit shop but uses an international delivery model that allows them to tout themselves as "the fastest made-to-measure company in the world." In mid-2022 with supply chain disruptions everywhere, they were still advertising a turnaround of 35 days!
Standard Retailers– Banana Republic, Express Men, Macy's, Men's Warehouse, and similar all have good, off-the-self options for you to try out!
All of this to say, the answer to your question "how to plan a wedding quickly" is by being intentional, making a list, and embracing creativity.
And lastly, believe it is possible! I know it is, so if you ever need some extra encouragement or a capable partner to help you bring it to life, drop me a line to say hello!
It would truly be an honor to photograph your day and to help you craft your beautiful elopement experience.❤️️